Kuretake Black Urushi Makie SAKURA-NI-MOMIJI Gold Iridium M Nib Fountain Pen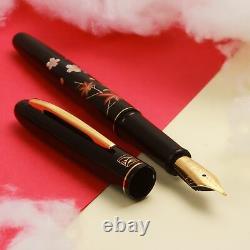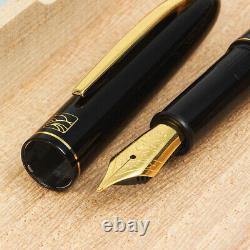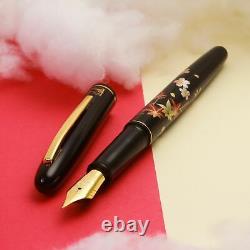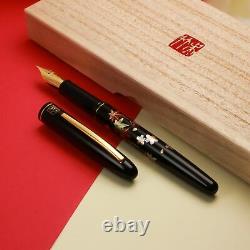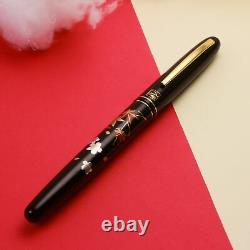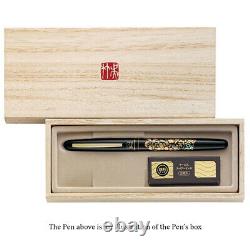 Kuretake Black Urushi Makie "SAKURA-NI-MOMIJI" Gold Iridium M Nib Fountain Pen. Kuretake Rare Urushi Makie Art. Schmidt Iridium Gold Point M Nib Fountain Pen from Japan. (BRUSH PEN TO FOUNTAIN PEN: BY US). KURETAKE BRUSH URUSHI MAKIE PEN BODY + EUROPEAN SCHMIDT NIB. Kuretake is a Japanese manufacturing company of writing implements. The firm began its activities manufacturing Sumi ink and brushes and then expanded its range of products, producing mainly brush pens. Their current range of products profile includes. Markers, brush pens, inks, watercolors. Kuretake was founded in 1902 and was and is famous for making excellent brush and color brush pens with a fountain pen-like cartridge system that fuels the pen with ink from the inner section to the writing point. But as Pen Wing Stationery!
We like to elevate the elevated! We want to bring the brilliant and utmost beauty of the Kuretake Urushi makie brush pen collection to Urushi Maki-e Fountain pen lovers! By replacing brush tip with Schmidt Iridium Point Nib. Authentic and famous for their fude brush and now we bring a new flavor to it. Schmidt makes the same quality nibs for many other brands and models like as follows.
Franklin-Christoph: 14, 27, 29, 40. Twsbi: Diamond 530, Diamond 540, Diamond 580. Makie, a traditional Japanese craft. Kuretake beautiful pattern with modern technology.
Each Kuretake will deliver color and glossiness unique to Makie Art. Nib Test Result: So Smooth & Beautiful Ink Flow. Customized Kuretake Urushi Makie Fountain Pen is Not included in the Kuretake catalog. It is customized with German Nib fitted into the pen and converter attached. URUSHI MAKI-E: HISTORY, TECHNIQUE & BEAUTY. Maki-e is a Japanese lacquer art that utilizes urushi lacquer to decorate. Stemming from the words maku meaning to sprinkle and e meaning painting, maki-e is a technique that a gold powder is sprinkled over after undercoating, painting, and coloring so as to obtain a luxurious and stereoscopic effect.
The quality of maki-e largely depends on the work process of shitaji (undercoating) and uwanuri (top coating) that affect the total outcome, and finally the togarashi (polishing of the surface to make it flat) after the top coating determines the quality of the final work. The maki-e technique is distinguished from other decorating techniques such as hyomon technique in which haku and kirigane (gold foils thicker than haku) are used other than a gold powder, rankaku technique (decoration using fragments of quail and chicken egg shell to express the white color), and raden craft, which is a decoration made by inlaying shells like turbo marmoratus and abalone. It is also distinguished from chinkin technique, in which the gold powder or haku are inlayed into the carved surface.
STORY BEHIND THE URUSHI MAKI-E: SAKURA-NI-MOMIJI "SAKURA ON AN AUTUMN LEAVES". Cherry blossoms and autumn leaves.
Seeing these two things at once is something that cannot be seen in Japan, where the four seasons are clear. This so-called "spring-autumn" pattern depicts the "fictitious season" in which both spring cherry blossoms and autumn leaves exist, so it does not apply to any of the four seasons and is used regardless of the season. You can often see it in the pattern of kimono.
For tea ceremony tools, "Unnishiki "pattern. The Unnishiki pattern is a color painting pattern with cherry blossoms in full bloom and autumn leaves. Unnishiki's "cloud" is a white cloud that expresses cherry blossoms, and "Nishiki" is a brocade that expresses autumn leaves. In this way, the patterns of cherry blossoms and autumn leaves have lived in Japanese tradition and culture.
Why don't you add this item with cherry blossoms and autumn leaves that are deeply rooted in the life of Japanese people who love nature, keeping in mind the changes of the four seasons. Founded under the name of "Kuretake Sumi" in 1902, the company began to produce the sumi, a brush similar in style to certain watercolor brushes, also with a generally thick wooden or bamboo handle and a broad soft hair brush that when wetted should form a fine tip. Oriental brushes were created for the traditional painting techniques of Japan and the Far East, such as sumi painting. Both the techniques themselves and the brushes have become popular in western countries.
Bamboo and sumi brushes have become popular with watercolor artists for detailing and fine lines, while the hake brush is used much like a square wash. In 1965 Kuretake Industries Co. Was established as a plant specializing in the production of writing instruments while Tokyo office was established. In 1986 a subsidiary, Kuretake U. Was established in the West Midlands, England. In 2014 another subsidiary, "Kuretake ZIG Corporation" was established in Sacramento, United States. WRITING EXPERIENCE: GERMAN INFLUENCED NIB ON JAPANESE MADE MAKIE BODY. Right from the get-go, you can easily notice that bold, distinguished Schmidt Iridium Point Nib, is sturdy, well balanced, and has a brilliant ink flow.
The nib comes in Medium Size, and both sizes have runny and well-defined stokes that can keep you all day adoring how smooth this nib is regardless of the material. The nib is made out of stainless steel material with an iridium point, but the writing experience does not compromise, The Medium-sized Iridium point has a gradient ink flow, with thicker ink is released at the end of each stroke and lighter release at the beginning of each stroke. Why did we want to offer Medium nib? Either way writing on a fine tip of the medium tip is a personal preference, and the nib we selected: Schmidt Iridium Point is a great Nib to compliment the beautiful Urushi maki-e body of Kuretake Fountain Pen. This model is a Medium Nib Size Fountain Pen.
BEHIND THE CRAFT: PEN WING STATIONERY'S MANDATE. The Kuretake brush pen is an excellent piece of writing instrument, But we love fountain pen and Urushi Makie, when it comes to Brush pens or Nib Style pens, we prefer Nib style pens! That's, why we decided to customize the brush pen to accommodate fountain pen enthusiasts and urushi makie lovers like you and me, to find the beautiful balance between the two great elements. REFILLS: CAN BE USED BY CARTRIDGE & CONVERTER. You can use European style: International Cartridge. There are two versions of the international standard cartridge -'short' 38mm cartridges and'long' 73mm cartridges. This pen will accept either way. Kuretake Makie story Japan Limited. DU185-415 Body + Schmidt Nib.
Schimdt Iridium Point (M) Nib. Cartridge & Converter (Cartridge Included). Our goal is to provide the best quality products and service and your satisfaction is important to us. Your feedback is important to us. Please help us to stand out from other sellers and let us bring you the best products from worldwide.
We will try our best to resolve the issue! Your satisfaction is guaranteed from our store. We look forward to serving you! On weekend and Japanese holidays.
We would like to ask for your cooperation and understanding. Once the item has been arrived to you, please kindly check it carefully. The return is only accepted during the return period. Items must be in new condition and has not been used at all means.
Before returning any item, please contact in advance. We'd love to say thank you for supporting our business.
If you have any problem with your order or questions about products, please let us know and we will do our best to resolve any issues or to answer your queries. Please accept our apology for any delays during weekends and Bank holidays, we will get back to you as soon as we can.
Pen Wing Stationary company in Japan. We are an online stationery store for people in pursuit of the perfect pen.
I love fountain pens, watch so much and carry a huge collection at my disposal. It is simply just because it gives me the utmost pleasure to share the wisdom, history that lies behind all the vintage pens, watches, and so on.
It takes time and effort to collect them and only the collectors who have passion would understand that feeling of joy. Since the items survived many decades, please accept the flaws that they carry. But certainly, they will make you happy and you will be proud to have one of those in your hands and part of the history. We are also keen to stock from you too the brands that you carry.
I think your cooperation and support will build a strong relationship in broaden the network around the world. We cannot wait to hear from you soon. Listing and template services provided by inkFrog. The item "Kuretake Black Urushi Makie SAKURA-NI-MOMIJI Gold Iridium M Nib Fountain Pen" is in sale since Thursday, January 14, 2021. This item is in the category "Collectibles\Pens & Writing Instruments\Pens\Fountain Pens\Other Fountain Pens".stationery" and is located in Tokyo.
This item can be shipped worldwide.
Brand: Kuretake
Material: Resin
Ink Color: Black
Nib Size: Medium (M)
Vintage: No
Nib Material: Stainless Steel
Features: Gold Trim
Personalized: Yes
Modified Item: Yes
Modification Description: Japanese Kuretake Urushi Maki-e Brush Pen Body + Schmidt Nib
Country/Region of Manufacture: Japan
Type: Fountain Pen
Nib Brand: Schmidt
Pen Body: Limited Japanese Urushi Maki-e Art
MPN: DU185-515