Sailor New Release Luminous Shadow KOP King Of Pen 21K Gold IP Nib Fountain Pen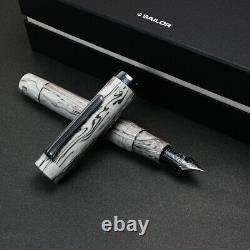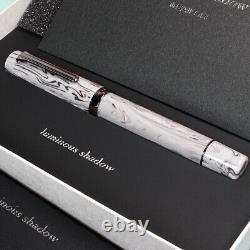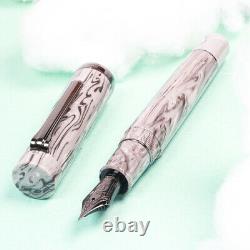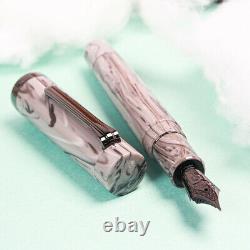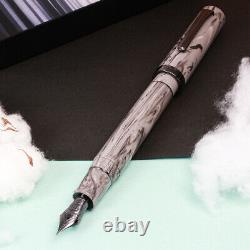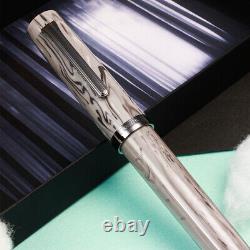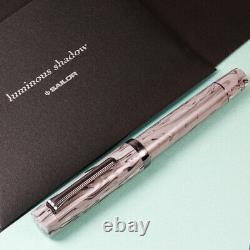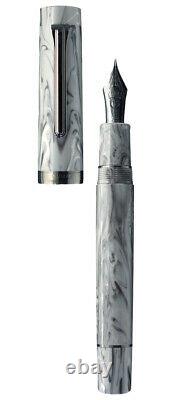 Sailor New Release Luminous Shadow KOP King Of Pen 21K Gold IP Nib Fountain Pen. Largest KOP Upgraded 21K Gold IP Black M Nib Fountain Pen. Guess what, I finally uploaded the most anticipated model of the year of release (2020). This model has been a talk of the enthusiasts in Japan for a while. The reason seems like, Sailor finally is thinking out of the box, introducing some models that have never released before.
Especially, bringing up new unique materials along with their best nibs. When the KOP model comes to our mind, we can clearly have an image that it's the largest pen, has the most prominent largest nib, and available in polished Ebonite or Urushi.
But now we have a model that is larger than KOP with KOP nib that is upgraded with black IP and 21K solid Gold. It just looks stunning, goes with the overall design.
Sailor used brand new special materiel to introduce the motif of the pen. I have interchanged the grip section to show you how they can be switched because both models come with the same largest nib. The Picture above is for illustration purposes.
The real product will come in Fog Gray Color, not Blue. Let's talk about the material itself. What is special about this material? The Luminous Shadow Fountain Pen is a marble-patterned acrylic cutting fountain pen created by mixing multiple colors. There are no two identical patterns, and they show various expressions depending on how they are shaved.
Luminous shadow is a fountain pen that links the concept "light and shadow" with the uncertain features of the marble pattern "shape". The motif is a scene of nature that is constantly changing. The coloring mixes colors extracted from light and shadow.
The Luminous shadow is supposedly larger than KOP but has a great balance to it. If you have larger hands or like writing with larger pens, this could be one of your favorites besides KOP. I forgot to mention the unboxing experience, it was great. Sailor really put much effort into presenting their new model this time around. The paper box came in a beautiful black finish and really has an expensive feel to it.
When you open the box, it will welcome you with some introductory papers to give you an idea of what is inside. The box cover (downside) has a motif picture from Sailor that represents that concept of the pen as soon as you open the box, which is nice. Then you will find an envelop like a treasure has been secretly put in there and ready to reveal by someone who would yield it. All the accessories are put inside the envelope. The overall experience was amazing!
From the unboxing to holding the pen to writing with it!! The pen is absolutely flawless in design and writing experience. Comparing to KOP the model is slightly bigger. I love larger pens and the feeling is quite satisfying.
Luminous Shadow is larger than KOP. The real product will come in Fog Gray Color not Blue. NEW RELEASE: LUMINOUS SHADOW WITH KOP LARGEST NIB.
Marble pattern that makes you feel "light and shadow" in nature, a newly released model made of acrylic cutting material from Sailor. The model is called "Luminous Shadow Fountain Pen". Released "Luminous Shadow Fountain Pen" nationwide on December 19, 2020 (Saturday). The pen is equipped with a super-large 21-karat gold nib unique to Sailor Pen and a black IP-finished nib.
Sailor never produced an acrylic-produced pen with the largest most popular nib, also known as the famous KOP nib. There is something unique about the material which actually makes sense when you feel the pen by holding it. I wondered the same, But Sailor proved me wrong, what can be achieved through imagination. It's truly an artcraft. I have collected this model from one of the pen shops in Japan. The model is not much available in the international market yet, so, if you are a collection, this could be your only chance. All Models of the Collection. COLORING THEME: NATURAL SCENE WHERE YOU CAN FEEL LIGHT AND SHADOW.
The motif is a scene of nature that keeps changing from moment to moment. The coloring of the materials mixes with each other and created a natural theme that feels like colors are extracted from light and shadow. In my personal opinion, the coloring of the pen is most likely have relevant to one of the most popular artworks "The Scream", a composition created by Norwegian Expressionist artist Edvard Munch in 1893.
The original German title given by Munch to his work was Der Schrei der Natur (The Scream of Nature), and the Norwegian title is Skrik (Shriek). The agonized face in the painting has become one of the most iconic images of art, seen as symbolizing the anxiety of the human condition. Munch recalled that he had been out for a walk at sunset when suddenly the setting sunlight turned the clouds "a blood-red".
He sensed an "infinite scream passing through nature". In his diary in an entry headed "Nice 22 January 1892", Munch wrote. One evening I was walking along a path, the city was on one side and the fjord below. I felt tired and ill. I stopped and looked out over the fjordthe sun was setting, and the clouds turning blood red. I sensed a scream passing through nature; it seemed to me that I heard the scream. I painted this picture, painted the clouds as actual blood. The Red texture representation of the art goes pretty good with the motif of the pen. He later described his inspiration for the image. I was walking along the road with two friends the sun was setting suddenly the sky turned blood red I paused, feeling exhausted, and leaned on the fence there were blood and tongues of fire above the red-black fjord and the city my friends walked on, and I stood there trembling with anxiety and I sensed an infinite scream passing through nature. THE MOST ANTICIPATED LARGEST NIB FROM SAILOR. NOW CAME IN MORE STYLE: IP BLACK. Special attention has been given to the oversized 21K solid gold nib (the life and soul of the fountain pen), which gives top writing quality. The large-sized pen is handcrafted from beautifully textured acrylic, a special produced resin material requiring special production processes. The material is very warm to the touch and its rich elasticity and unique texture provide quality and character to the product. Sailor nibs are renowned for their smooth writing qualities. The King of Pen ships in a wood well-ended box which includes all papers, a converter, starter ink cartridges, and a polishing cloth. A 21-karat gold nib made with the unique technology of the Sailor Pen, compared to 14K and 18K, which are often used as fountain pen nibs. It has elasticity and is a pen even when the writing pressure is strong. Ink is less likely to run out without opening the notch. It slides on the paper in a "flexible" manner and is comfortable with a stable ink supply at all times.
You can enjoy a nice writing taste. Achieved supple writing comfort, It is a gem that you can feel the origin of the fountain pen. The pen tip has a black IP. Sailor 2020 Release Luminous Shadow.
Cartridge / Converter (Converter Included). Our goal is to provide the best quality products and service and your satisfaction is important to us. Your feedback is important to us. Please help us to stand out from other sellers and let us bring you the best products from worldwide.
We will try our best to resolve the issue! Your satisfaction is guaranteed from our store.
We look forward to serving you! On weekend and Japanese holidays. We would like to ask for your cooperation and understanding.
Once the item has been arrived to you, please kindly check it carefully. The return is only accepted during the return period. Items must be in new condition and has not been used at all means.
Before returning any item, please contact in advance. We'd love to say thank you for supporting our business. If you have any problem with your order or questions about products, please let us know and we will do our best to resolve any issues or to answer your queries. Please accept our apology for any delays during weekends and Bank holidays, we will get back to you as soon as we can. Pen Wing Stationary company in Japan.
We are an online stationery store for people in pursuit of the perfect pen. I love fountain pens, watch so much and carry a huge collection at my disposal. It is simply just because it gives me the utmost pleasure to share the wisdom, history that lies behind all the vintage pens, watches, and so on. It takes time and effort to collect them and only the collectors who have passion would understand that feeling of joy. Since the items survived many decades, please accept the flaws that they carry.
But certainly, they will make you happy and you will be proud to have one of those in your hands and part of the history. We are also keen to stock from you too the brands that you carry. I think your cooperation and support will build a strong relationship in broaden the network around the world. We cannot wait to hear from you soon. Listing and template services provided by inkFrog.
The item "Sailor New Release Luminous Shadow KOP King Of Pen 21K Gold IP Nib Fountain Pen" is in sale since Sunday, January 10, 2021. This item is in the category "Collectibles\Pens & Writing Instruments\Pens\Fountain Pens\Sailor".stationery" and is located in Tokyo. This item can be shipped worldwide.
Brand: Sailor
Material: Acrylic, Gold, IP
Ink Color: Black
Nib Size: Medium (M)
Nib Material: Gold, 21K
Features: Gold Trim
Country/Region of Manufacture: Japan
Type: Fountain Pen
Pen Type: Fountain Pen
Model: Sailor Luminous Shadow & KOP King Of Pen 21K Gold Nib
Model Name: Sailor Luminous Shadow Fog Gray
MPN: 10-9687-421
Related Models: 11-7002-420 11-6001-420 10-9175-020 10-9639