Waterman 3v Fountain Pen with 14k Gold Flexible Nib - F to BBB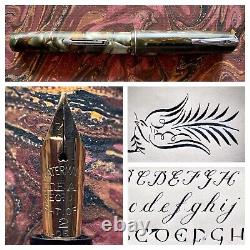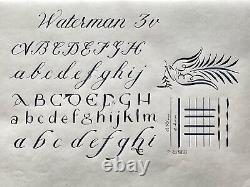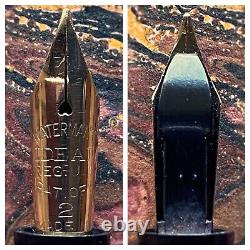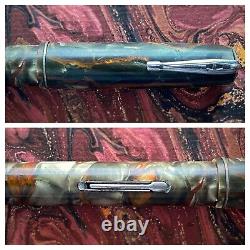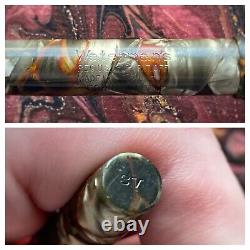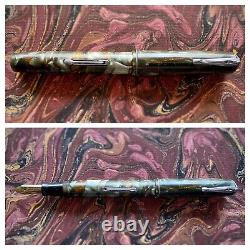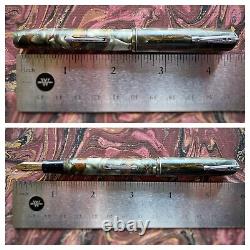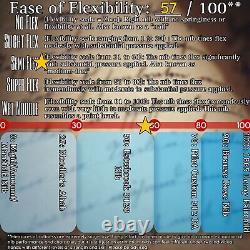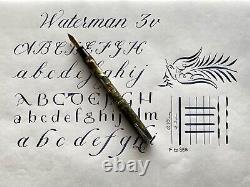 For your consideration, a moss agate-colored Waterman 3v fountain pen with 14k gold size 2 nib, flexible from fine to triple broad line widths, as measured and categorized using the same distinctions used by pen restorer Mauricio Aguilar. The softness (or ease of flexibility) of this pen's nib is rated about 57/100, with 0 being completely rigid and 100 being soft like a paint brush, which puts it in the upper end of the semi flex category (see infographic). His pen would be suitable to most all users, whether skilled or beginner, as it rarely railroads and the nib responds well to a variety of pressures.
Some vintage flexies can write beautifully but have quirks that are best left to skilled hands, but Waterman 3v (including this one) is simply not a fussy pen at all. See condition report for more information on its refurbishment and physical state. I've literally spent hours on your pen.
Before anything, it has been ultrasonically cleaned. It's initially cleaned with other pens in the bath to shake any big fragments of old ink sacs loose and to unstick any parts that are immovable. Then it is disassembled to its smallest parts and ultrasonically cleaned several times by itself to make sure that all traces of rust, dust, inks, resins and other foreign substances are washed away.
The nib is polished using gold-designated methods and products. The pen's then put back together with a fresh rubber ink sac, and the nib and feed are adjusted to assure proper and preferred ink flow.
A writing sample is completed to make sure the pen is in full working order and to check the line variability of the nib (and the line width is measured with a digital caliper). Though the writing sample might look similar to ones in my other listings, the writing sample shown was performed with the exact pen identified and pictured.
That's exactly how the pen writes (though you can probably do a better job without my shaky carpal tunnel issue). Though I do minimal and noninvasive polishing, it is simply the nature of a vintage item to be used.
As such, the pen has small hairline scratches that are consistent with a pen that has been used, put in a pocket, etc. None are severely consequential to the function or aesthetic quality to the pen.
The barrel imprints are vivid and deep, and no structural cracks appear to be present. Chrome fittings show minimal to no brassing, and the nib has been polished. The pen measures about 4.25 inches closed to about 5.5 inches from nib to end with the cap posted.
The ink sac installed is brand new. As a collector, it's a bit like reading books; you enjoy one for a while, keep it around for a bit in case you want to read it again, and then you move on. I like to come along, put them back into working condition, and prolong the life of a pen that was produced with such deliberation and care at a time when people took care of even the smallest of their investments, when we hadn't yet become a throw away culture.
But it'd be silly to keep so many pens, so I make them available to other enthusiasts, whether new or well-experienced. However, if the GSP is something you prefer, please let me know, and I will create a new listing with that option. If it's not what you need or expected, notify me within 14 days of its arrival. It must be in the same condition that I sent it to you, and it must be insured when you send it back. Neither of us need to take that unnecessary chance. If it is damaged in transit, let me know.
It most assuredly will be insured, so make it available for postal inspection, and we'll get you taken care of. It just requires great and thorough communication on both our parts.
New to vintage flexible-nib pens? The first thing to be aware of is that even though the nib is flexible, it will rarely be as soft and flexible as a traditional dip-pen nib used for calligraphy. There are some that rival the flexibility of a dip-pen nib, and they are often referred to as a wet noodle. They are highly sought after and come with a hefty price tag.
The main advantage of these pens in portability; you do not have to haul around a bottle of ink that may tip over when open, you don't have to use a rag or paper towel to wipe excess ink when you're finished, etc. You can use your fountain pen to draw, practice or write pointed pen calligraphy whenever and wherever you want with little to no hassle. The nibs on these pens also last longer. Dip-pen nibs like Brause, Hiro, Zebra, Leonardt, etc.
Wear out and need to be replaced fairly often. The nib on a vintage fountain pen will most often be 14k gold, a popular gold alloy for nibs because it maintains strength with just enough give to make the tines springy without permanently bending (though they can be "sprung" or permanently bent out of position with improper use). The tines are often tipped with a metal called iridium that is hardwearing, that will maintain a writing point for decades of use.
Remember that ease of flexibility/softness and line width variation are two different realms entirely. A nib can be need significant pressure to flex while providing a wide degree of line variation just as well as a nib that is considered a wet noodle can perhaps flex conservatively from fine to double broad.
I have attempted to provide adequate evaluation of each characteristic by comparing some standard or common pens side-by-side, but unique writing styles and muscle sensitivity can make these ratings very subjective. Both should be considered as merely an opinion, and that opinion can change just a little bit when the pen in question is under your use. A vintage fountain pen needs regular maintenance to work properly, but normal routine care can be performed by the user rather than a professional.
The fact that a lot of these vintage writing instruments are older than their user is testament to how long they can last when well cared for. Writing properties can be adjusted by the user by removing the nib and the feed from its section and placing the feed closer to the nib tip (producing a wetter line or heavier ink flow) or drawing the feed further away from the tip of the nib (producing a drier ink flow).
Remember to use quality paper when writing. Most papers aren't suitable for flexible nib writing because the wetness of the ink will bleed and the nib might cause the paper to tear. The kinds of paper that you want to use with a pen like this will be very smooth and heavily sized (coated in gelatin or glue), similar to a vellum or Bristol finish that one might use with markers, gouache, or similar liquid medium for jobs like architectural rendering. You can write normally on most surfaces without flexing the nib, but to have a sharp-looking writing specimen with crisp letters and line variation, make sure you are particular and deliberate about your paper. This item is in the category "Collectibles\Pens & Writing Instruments\Pens\Fountain Pens\Waterman". The seller is "stonecow" and is located in this country: US. This item can be shipped worldwide.
Brand: Waterman
Type: Fountain Pen
Nib Size: Fine (F)
Ink Color: Black
Nib Material: Gold, 14K
Personalized: No
Material: Celluloid
Features: Chrome Trim
Country/Region of Manufacture: United States
Vintage: Yes