PELIKAN Souverän M600 fountain pen Black-Red NEGRO ROJO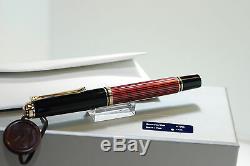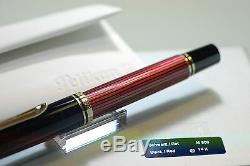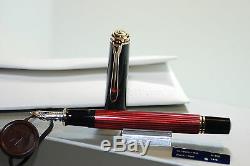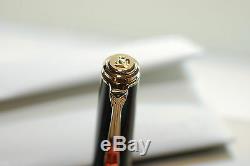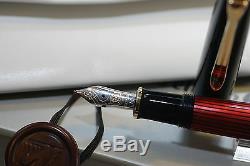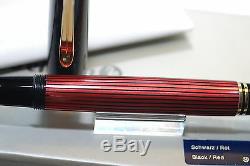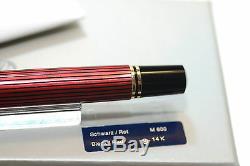 En el año 1929 Pelikan fue la primera empresa del mundo en introducir el mecanismo de émbolo diferencial. Esta técnica hace que el eje que se encuentra dentro de la estilográfica gire más rápidamente que la contera o manguito de rellenado, gracias a dos roscas diferenciales.
Hasta hoy, esta estilográfica está disponible en muchas versiones diferentes, y aunque con el paso del tiempo se ha mejorado su diseño y los detalles técnicos, el mecanismo básico sigue siendo el mismo. En 1950 se lanzó el modelo 400. Con su cuerpo a rayas verdes, se ha convertido en el símbolo mundial de la marca Pelikan.
Durante los años 80, la serie fue bautizada con el nombre Souverän, aunque popularmente también se le ha llamado "Stresemann" porque recordaba al secretario de estado de la República de Weimar, famoso por sus trajes a rayas... Cuando los modelos en negro y verde y en negro y azul ya gozaban de gran popularidad, en 2001 se añadió la variación de colores negro y rojo. El patrón a rayas de su vitola se presenta en colores de fuerte contraste. La producción de este recubrimiento es muy laboriosa. Siguiendo una fórmula especial de Pelikan, a partir de un material de algodón se obtiene, al cabo de muchos pasos diferentes, una pieza que acaba adquiriendo la forma de una lámina a rayas.
Después se moldea la forma correcta, se rectifica y se corta con un diamante. A continuación, los anillos dobles característicos que se encuentran en la parte posterior del cuerpo y la tapa se integran en el material. Esto se realiza con la máxima precisión para obtener una transición prácticamente perfecta entre los materiales. A continuación, el instrumento se pule hasta conseguir un brillo intenso antes de montar el clip con un ligero resorte y la famosa forma de pelícano estilizado. Si le gustan los clásicos, usted poseerá un instrumento de escritura Souverän.
In the year 1929 Pelikan was the first company in the world to introduce the differentiated piston mechanism. This technique causes the spindle inside the fountain pen to turn quicker than the end piece of the barrel, with the help of two different threads.
To this date, this fountain pen exists in many different variations, and though it has been developed in design and technical details over time, the basic mechanism remains the same. In 1950, the model 400 was launched. With its green-striped sleeve, it has become a world-wide symbol for the brand of Pelikan. In the eighties, the series was baptized Souverän, though popular lore has taken to calling it by its nickname Stresemann, because the state secretary of the Weimarer Republik was famous for his striped suits... With the models in "Black-Green" and "Black-Blue" already enjoying great popularity, the color variation "Black-Red" was added in 2001.
The striped pattern of its sleeve presents itself in strong contrasted colors. The production of the sleeve is work-intensive.
Adhering to a special Pelikan recipe, the raw material cotton is processed through many different steps until it is shaped into a striped sheet. It is then formed into the right shape, cut and sanded with a diamond.
Next, the characteristic double clips at the back of the barrel and on the cap are integrated into the material. This is done with the highest precision in order to obtain a virtually seamless transition between the materials.
The writing instrument is then polished to a high sheen before the slightly springy clip with its famous, stylized Pelikan is mounted. If you love classics, you own a Souverän writing instrument. En 1929 Pelikan fut la première société au monde à présenter un nouveau mécanisme à piston. Ce stylo plume se décline aujourdhui sous plusieurs modèles et, bien que la conception et certains détails techniques aient évolués depuis lors, les bases du mécanisme restent inchangées.
En 1950, le modèle 400 du stylo plume est lancé. Composé dun corps vert rayé, il est rapidement devenu un symbole mondial de la marque Pelikan. Dans les années quatre-vingt la série est baptisée Souverän bien que le peuple allemand lui ait déjà conféré le surnom de Stresemann, nom du secrétaire d'état de la "Weimarer Republik" connu pour ses costumes rayés. Avec les modèles noir et vert et noir et bleu qui profitent déjà d'une grande popularité, la variante noir et rouge a été ajouté en 2001.
Le motif rayé du corps se présente avec un fort contraste de couleurs. La production du corps demande beaucoup de travail. En accord avec une technique de fabrication particulière à Pelikan, le coton utilisé passe par de nombreuses étapes jusqu'à obtenir une fine feuille rayée. Il est alors façonné, poncé et taillé avec un diamant à la forme exacte du stylo. Les attributs de la double bague située à larrière du corps et sur le capuchon sont ensuite intégrés au stylo avec la plus grande précision pour obtenir une transition pratiquement uniforme entre les matières.
L'instrument d'écriture est alors poli pour obtenir une brillance extrême avant que lattache, avec le célèbre pélican et légèrement flexible, ne soit montée. Si vous aimez les instruments classiques, vous possédez un stylo Souverän.
We are at your disposal for any further information. We usually reply messages within the same day, but please allow do bear in mind that our time zone differences might cause a slight delay. YOUR UNDERSTANDING WITH THESE TERMS WILL BE GRATEFULLY RECEIVED!
YOU CAN HAVE A LOOK AT THE OTHER ITEMS I HAVE FOR SALE. THANKS FOR YOUR INTEREST AND BEST REGARDS FROM SPAIN.
The item "PELIKAN Souverän M600 fountain pen Black-Red NEGRO ROJO" is in sale since Monday, February 6, 2017. This item is in the category "Coleccionismo\Artículos de escritorio\Plumas\Estilográficas\Otros". The seller is "anagas" and is located in león, Castilla y León. This item can be shipped worldwide.