1946 PARKER VACUMATIC BLACK MAJOR- GT- Fountain Pen RESTORED Blue Diamond Clip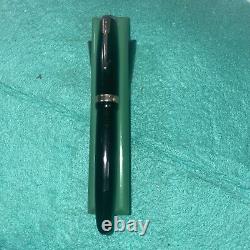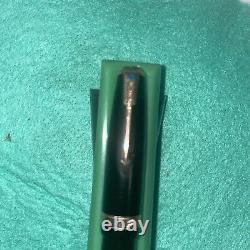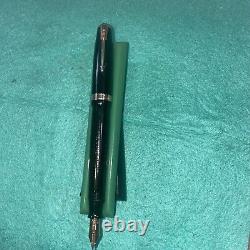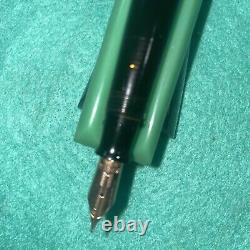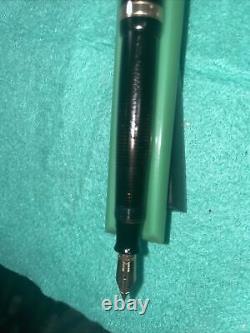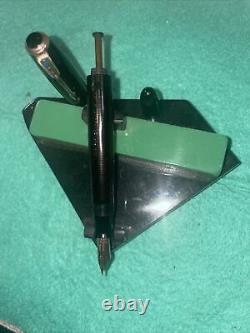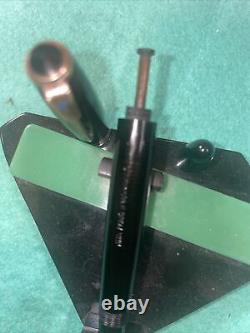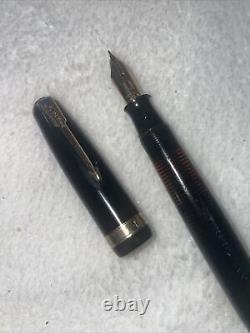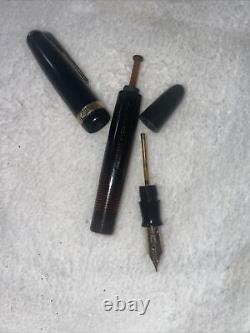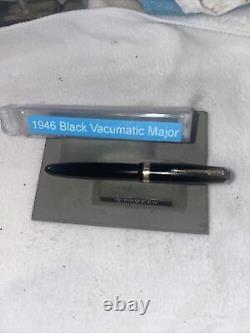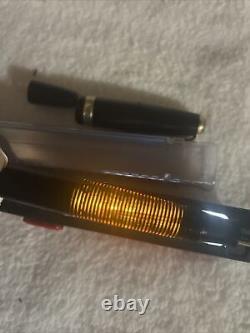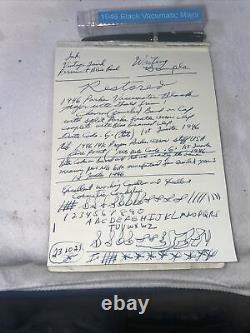 This fixed listing is for a serviced, completely restored 1946 Parker Vacumatic Black Major Fountain Pen gold trim. The date code is 6 with three dots, so 1st Quarter 1946. I did a fill writing sample then flushed and ultrosonically cleaned again (Please see picture #12). I have thoroughly tested the pen with distilled water and it is properly filling as it should and as it was manufactured to fill. There are no cracks, bite marks, splits, or monograms. The fountain pen is in excellent working condition and excellent cosmetic condition. There is a chevron bank (Jewelers Band) on the cap.
The clarity is excellent, (Please see picture #11) The nib is a 1946 14K Proper Parker Arrow USA Stiff fine point. The date code on the nib is 6 with three dots so 1st Quarter 1946.
NOTE: The date code on the barrel of 6 (three dots) meaning manufactured in the 1st quarter of 1946 is the exact same date code as the nib. This means that the pen and nib were manufactured in the exact same quarter and year. Thank you for looking and your interest in my products. Following is some date coding information concerning Parker Fountain Pens. My source is Parker Pens Penography, DATE CODES - DATING A PEN. IN MID 1934 PARKER BEGAN MARKING MOST PENS AND PENCILS WITH A DATE CODE, BOTH THE BARREL AND THE NIBS WERE MARKED. HOWEVER, LACKING A DATE CODE DOES NOT MEAN A PRE-1935 MADE PEN, SINCE MANY IMPRINTS HAVE BEEN WORN OFF WITH USE. THE FIRST DATE CODES WERE TWO DIGITS WHERE FIRST DIGIT DENOTING QUARTER OF PRODUCTION, 2ND DIGIT DENOTING THE PRODUCTION YEAR. FOR EXAMPLE: IF NIB DATE CODE OF 36 MEANS PRODUCED 3RD QUARTER OF 1936.
In the second quarter of 1938 this system was however changed to save production time, and a new date code, using a system of dots was adopted. The stamp initially had three dots and for each quarter one dot was filed down leaving none for the fourth quarter.
Since production was overlapping, examples exist with either the imprint 28 or 8 with two dots for the second quarter of 1938. Also, since this coding system extended over a decade, a pen marked. 8., could have been produced the second quarter of 1938 or second quarter of 1948.
LENGTH - 5 1/8 inches. CAP - Split Arrow Parker Gold Clip with Blue Diamond. NIB MATERIAL - 14K Gold, NIB STROKE - Fine, 1946 Proper Parker Arrow stiff U.
NIB, DATE CODE is 6 with three dots, 1st Quarter 1946 (See Picture #12).