Diplomat Elox Fountain Pen in Ring Black/Orange Medium Point NEW in Box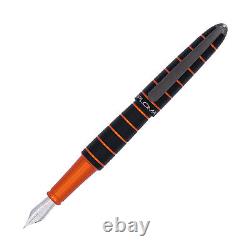 Diplomat Elox Fountain Pen in Ring Black/Orange - Medium Point - NEW in Box. Take a moment and enjoy the cutting edge design of the Diplomat Elox. Elox derives fro the "eloxieren" which means "anodize" in German and was chosen to recognize the complexity of the double anodizing process, a unique and innovative technology being applied by Diplomat for the first time. Inspired by bestselling Aero collection, Elox features full black anodized aluminum body, complimented by horizontal anodized orange aluminum rings. Make a swoosh with a smooth #6 JoWo stainless steel nib, complimented by gunmetal gray trim, and easily refill the ink via standard international cartridge or converter. Make your writing experience truly special with Diplomat Elox. Diplomat Elox Fountain Pen in Ring Black/Orange Specifications. Body Material: Black anodized aluminum with horizontal anodized orange rings. We are an authorized dealer for all the brands we carry. We do not sell imitations of any sort and only carry genuine, original brand name writing instruments and accessories. Please refer to your local import laws for details.
We strive for your ultimate satisfaction. We cannot accept opened and used bottles of ink, ink cartridges, used notebooks, engraved pens or pen cleaning supplies. When you receive any new fountain pen, we recommend to inspect it thoroughly and if necessary, lightly dip the nib tip in washable ink to test it. Make sure all of your auctions have ended prior to checking out.