Esterbrook JR Pocket Fountain Pen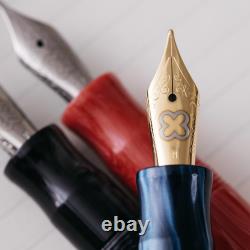 Esterbrook JR Pocket Fountain Pen. The "J" was Esterbrook's sleek and suave, classic pocket pen that appealed to the practicality of the times. It was a perfect pen for both men and women, and it still is today. Our revival of this 1940's and 50's pen has all of the hallmarks of its predecessor, with a few new bells and whistles. The new "JR" (which is the original J reborn) is stylish and refined.
It's compact in size, so you can always keep one in your jeans, shirt pocket, purse, or briefcase. Take it with you wherever you go. Mirroring the original "J"'s production, our new version is offered in three colors: Capri Blue, Carmine Red and Tuxedo Black.
Tuxedo and Carmine shine bright in Palladium trim and Capri gleams in Gold. And since we hope you'll hold onto it forever, both the German JoWo nib and the top of the pen have been engraved with the Esterbrook Eternity symbol. Sorry, our items are NOT available for pick-up. No additional information at this time. Diplomat Excellence A+ Bauhaus Fountain Pen.
Tibaldi Infrangible Bloom Russet Red Fountain Pen. Tibaldi Infrangible Mauve Red Fountain Pen. Tibaldi Perfecta Denim Stonewash Grey Fountain Pen.