Hand Turned Premium Blood Red Honeycomb Skull & Bones Fountain Pen P23-016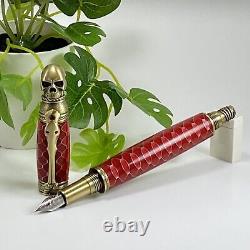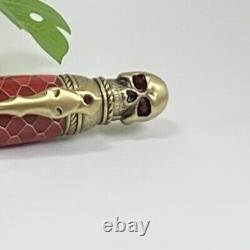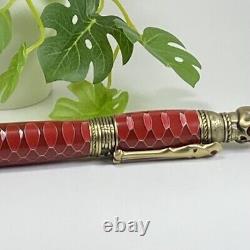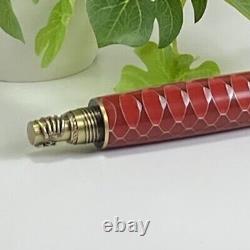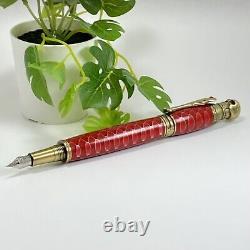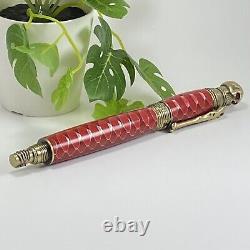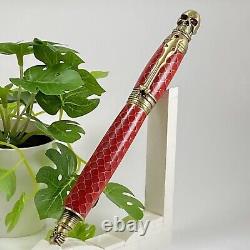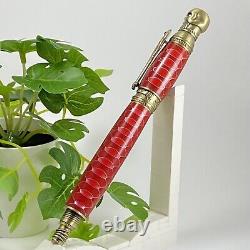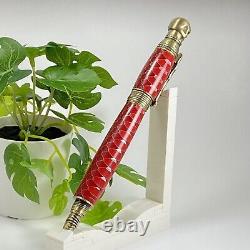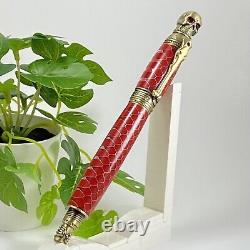 Welcome to the world of unparalleled writing pleasure with this Hand Turned, Premier Executive Fountain Pen! I personally created this masterpiece in my small shop on a wood lathe, ensuring that this pen is a unique piece of functional art. The fit and finish of this pen is flawless and guaranteed to be the centerpiece of your collection. The skull fountain pen sends a strong statement that signifies fearlessness, power and independence. Whether you're a biker, rocker, rebel or simply appreciate the dark side of life, you'll instantly identify with this Skull and Bones pen.
It's not for the faint of heart! The pen cap features a detailed human skull, complete with red crystal eyes, while a single boney hand grips the center band. The pen clip and tip are embellished with decorative bone accents and the authentic look of antique brass pairs beautifully with the blood red honeycomb pattern of the pen body. The solid brass hardware has been chemically darkened to simulate aged brass, which results in a gorgeous, long lasting brown plating with golden undertones.
Immerse yourself in the exquisite design and superior writing experience that this fountain pen offers. Whether you're a dedicated collector, a business professional, or an avid writer, this pen is sure to impress with its exceptional quality and timeless attitude.
Superior Nib: The fountain pen features a premium German made iridium nib, meticulously crafted to deliver a smooth and precise writing experience. The fine nib size allows for precise lines and intricate detailing, making it perfect for everyday writing or artistic endeavors. Luxurious Design: Indulge in the elegance of this pen's exquisite design.
The pen boasts a sophisticated blood red colored acrylic wrapped around an aluminum honeycomb inlay, which eerily resembles snake skin. Each pen is meticulously handcrafted on a wood lathe, turning the blank to the desired shape and progressing through an extensive process of fine polishing to ensure a beautiful shimmering finish. The result is a pen with perfect lines that seamlessly flow across the barrel and cap, showcasing the skill and artistry of the craftsman. Comfortable Grip: Experience unmatched writing comfort with the ergonomically designed grip section.
The pen's weight and balance, at 75 grams, are meticulously calibrated to provide a fatigue-free writing experience, even during extended writing sessions. Refillable and Versatile: This fountain pen utilizes a standard cartridge converter system, allowing you to easily switch between different ink colors and types. It comes with a cartridge of black ink to get you started, and includes a converter for bottled ink, offering you endless possibilities to customize your writing experience.
Secure Cap Posting: This pen is threaded on both ends of the pen barrel, allowing you to securely post it to either end. This convenient feature ensures that you won't misplace the cap while writing, providing ease and convenience.
Presentation and Gifting: This fountain pen comes in a sturdy, elegant textured linen gift box, making it an ideal present for yourself or a loved one. The soft-lined interior and strap allow for secure storage of the pen, adding an extra touch of luxury.
Barrel and Cap Material: Red Aluminum Honeycomb Acrylic. Length: 6.25 inches (closed), 7.25 inches (posted). Weight: 2.6 ounces (without ink). Discover the sheer pleasure of writing with the Skull & Bones Fountain Pen.
Each pen I create is a testament to the artistry and skill that have taken years to master. Whether you're signing important documents, writing personal notes, or expressing your creativity through calligraphy, this pen will exceed your expectations. Don't miss the opportunity to own this exceptional writing instrument.