Kaweco Original Fountain Pen in Black 250 Extra Fine Point NEW in Box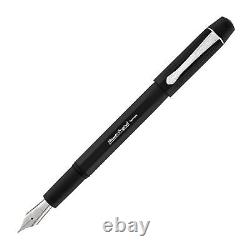 Kaweco Original Fountain Pen in Black - 250 Extra Fine Point - NEW in Box. In the "Original, " Kaweco taps its long history (since 1883) of vintage pen designs to craft a new, full-sized pen design that has a traditional appeal. Much like the popular AL-Sport, the Original has an octagonal, faceted barrel and cap made of matte-finished aluminum metal. The black finish is contrasted with a silver deluxe pocket clip, silver Kaweco medallion finial, and the pen's name branded in white on the barrel. Although they may look almost exactly the same, Kaweco Original design consists of two different fountain pens. The distinctions are subtle, yet important to most writers. The Original 060 fountain pen is slightly smaller in length, thinner in diameter, and lighter in weight than the larger Original 250. The 060/250 number indicates the nib. The 060 fountain pen fits a number 5 size stainless steel nib with plastic feed, which is the same nib that is on the Sport and AL-Sport fountain pens. The 250 has a larger, number 6 size nib, also with a plastic feed. Both fountain pens are loaded with an international-size ink cartridge to start. Although the cap can be posted on the back end of the pen, it isn't a very secure post and it extends the length of the pen significantly.
For a full-size, premium writing experience that has the familiarity of the Kaweco Sport, find your roots with the "Original" collection. Kaweco Original 250 Fountain Pen Specifications. Nib: #6 size stainless steel nib with plastic feed. Pen Length, Closed: 5 in.
Pen Length, Open (Cap Off): 4.86 in. Pen Length, Open (Cap Posted): 6.61 in. Maximum Barrel Diameter: 0.46 in. Grip Diameter: 0.39 in. Pen Total Weight: 0.9oz / 25.5g.
Packaged in a Kaweco tin gift box. We are an authorized dealer for all the brands we carry. We do not sell imitations of any sort and only carry genuine, original brand name writing instruments and accessories. Please refer to your local import laws for details. We strive for your ultimate satisfaction.
We cannot accept opened and used bottles of ink, ink cartridges, used notebooks, engraved pens or pen cleaning supplies. When you receive any new fountain pen, we recommend to inspect it thoroughly and if necessary, lightly dip the nib tip in washable ink to test it.
Make sure all of your auctions have ended prior to checking out.