Montegrappa Ducale Murano Astratto Resin Fountain Pen (M) ISDUR3IA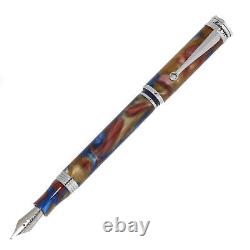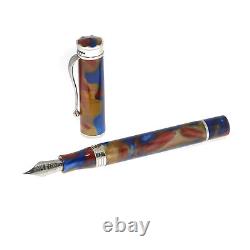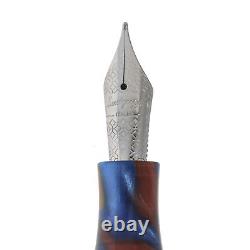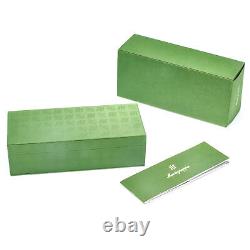 It's not New, It's not Preowned, It's ShopWorn - Be The First. Montegrappa Ducale Murano Astratto Resin Fountain Pen (M). This captivating multicolored with stainless steel trim Montegrappa Fountain Pen Features a pearlized resin core enhanced with enchanting swirls and abstract forms. The vibrant blues, reds and oranges featured in this special pen pay tribute to the Murano Islands and its many centuries of glassmaking excellence.
With its name drawing inspiration from Doge's Palace, one of the most prominent gothic style landmarks in Venice, the Ducale Murano collection embodies the essence of Venetian culture and tradition by incorporating charming pearlized resin in perfect harmony with carefully selected colors and textures. Indulge in a true Venetian experience from the comfort of your own home with the unique Murano-inspired hues and crown shaped caps resembling castle turrets. The Nib is Medium and made out of stainless steel. The Length is 140mm (5.5).
Products today are still made in the original factory on the river Brenta (northeast Italy). The brand's pens were well regarded during World War I with legendary writers Ernest Hemingway and John Dos Passos among passionate users - both were volunteer ambulance drivers. One of the first to use celluloid and galalith for construction, Montegrappa expanded rapidly in the 1930's with fountain pens in a variety of colors. Watches, cufflinks, leather goods, fragrances, and accessories have since become brand collections.
Company partners include Sylvester Stallone and former F1 Ferrari driver Jean Alesi. ShopWorn guarantees all products are authentic and never previously owned. We have been partnering with Global Luxury brands for over 20 years and have access to best in class inventory. Our merchandise comes from top luxury brands or their authorized retailers. Luxury brands turn to ShopWorn as a sustainable way to perpetuate past season's collections without having to liquidate the inventory.
Why would these exclusive brands sell merchandise to ShopWorn who will sell them at such a deep discount? Because every item has a season and the Brand wants to feature their new designs at a premium. Their off season merchandise comes to ShopWorn and now has an opportunity to sell to a customer who may not have been able to afford it initially. This smart practice expands their valued customer base and eliminates unnecessary waste. ShopWorn makes Luxury attainable and offers accessibility to amazing brands in limited quantities and we negotiate the best value so we can offer you the best price.
Our vast and varied selection is constantly changing and we are proud of our ever growing selection of outstanding luxury brands. "Shop Worn" historically has been used to describe merchandise with past lives in store displays, gently handled by staff and customers, but never consumer owned. This subtle distinction prevents the products from being considered new, yet because the merchandise has never been bought by a customer, it falls outside the "pre-owned" category. ShopWorn makes Luxury attainable and offers accessibility to amazing brands. All Products are Store-Display Models, Sourced from Authorized Retailers.
Don't just take our word, read testimonials from our customers. LIMITED EDITION Montegrappa Pirates Celluloid, Sterling Silver Fountain Pen SALE. Montegrappa Harry Potter: Gryffindor Stainless Steel And Brass Fountain Pen.
Montegrappa Fortuna Mosaico: Marrakesh Stainless Steel And Resin Fountain Pen.