NAGASAWA Profit Fountain Pen Demonstrator Black PROSKE Sailor New from Japan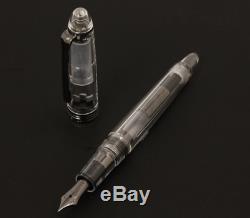 NAGASAWA Profit Fountain Pen Demonstrator Black PROSKE Sailor New from Japan. In the digital era of the PC-s, cell phones and smartphones there are some parts in the e-mails, in which we can express our feelings by using a smiley or an emoticon, however a hand-written text carries the information about the writer's personality and emotions that are expressed in the written letters and makes us feel the warmth and special intimacy. Among the writing tools, the fountain pen is the item that makes us feel the joy of writing to its utmost because of such unique taste and charm. Some people may be interested in trying a fountain pen, but they are usually discouraged for instance by the image of "its difficult use", "high price" or may be "not the right design" etc. One of the keys to its growing popularity secret is the increasing number of color ink variations.
In the blooming era of fountain pens, it was common to use only black and blue inks in the fountain pens when writing letters or business correspondence, but these days the producers of fountain pens launch color inks of all possible colors. This Black PROSKE model has a transparent body, so when a color ink is inserted inside, the whole pen body becomes colorful and looks pretty. , it's made based on the SAILOR profit fountain pens. The pen tip, clips and rings are made uniformly in black IP, which produces the air of luxury. On the 14K golden tip, there is the mark of Nagasawa store, the "Weathercock", engraved.
Also the converter is a standard part of the set, so that the users can enjoy writing with the color inks. How about enjoying to write with the golden pen and its fine touch, warmth of the written letters and special atmosphere plus using the charming colors unique to the Black PROSKE model, when writing your letters, diary or notes? Pen tip: 14K, black IP finished Body size: about 136mm Without the cap: about 117mm With the cap on the end: about 148mm Weight: about 20g (with the converter) Can be used with both the converter or cartridge. Suitable converter: Sailor fountain pen general Nib size: Extra-Fine (EF) / Fine (F) / Medium-Fine (MF) / Medium (M) / Broad (B) / Zoom (Z) / Music (MS). [Appendix: The specific features of the thickness of the letters written with the Nagasawa Original fountain pen]. Extra fine (EF): You can write very fine lines clearly and it is suitable for book-keeping and other notes. It is popular for writing into a system diary and other small notebooks. Fine (F): It is used for hand writing of normal fine letters. It is suitable for writing letters or taking notes. Please enjoy writing many fine and elegant letters on one sheet of paper. Medium fine (MF): It is suitable for writing letters or a diary. It is popular with all generations for the fine and easy writing. Medium (M): It is used for hand writing of normal medium letters. It is traditionally popular for its general usability for writing manuscripts, bills etc.
If it is the first time you use a fountain pen, this type is recommended. Broad (B): It is used for hand writing of normal bold letters. It is the fountain pen that an executive should always have at his disposal when doing checking or making a sign.
Zoom (Z): It can write very bold letters or fine ones depending on the angle you hold it. This pen nib can be used at your work and you can enjoy its practicality and creativity. Music (MS): It is originally used for writing musical notes. It is getting also more and more popular for writing design letters and its usage is very broad.
Although it may appear like a scratch around the neck, this is a "scar" that could be made when pouring resin in the manufacturing process. They cleaned the nib after the checking, but the color or water droplet may still remain a bit, please understand. The color of the actual products may be slightly different from that of the images on this web site. But sometimes it may be delayed due to local postal situation. The item "NAGASAWA Profit Fountain Pen Demonstrator Black PROSKE Sailor New from Japan" is in sale since Monday, March 4, 2019.
This item is in the category "Collectibles\Pens & Writing Instruments\Pens\Fountain Pens\Other Fountain Pens". The seller is "cool-japan" and is located in Tokyo. This item can be shipped worldwide.
Brand: Nagasawa
Country/Region of Manufacture: Japan
Pen Type: Fountain