Pelikan Souveran M800 Special Edition Brown Black F Nib fountain pen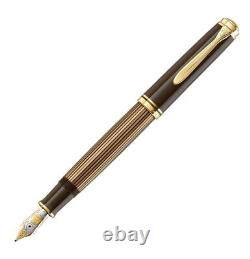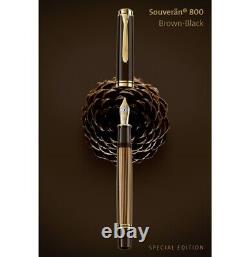 The barrel of this new M800 is constructed from cellulose acetate and depicts alternating brown and black stripes. The brown stripes have a very warm, almost golden, hue that contrast nicely with the black.
Complimenting the barrel are a cap, piston knob, and section made from a dark brown resin. Pelikan's typical 24 carat gold-plated furniture which includes a single trim ring at the section, two trim rings at the piston knob, two cap bands, a plated cap top with a single chick logo, and a beak clip. It is a bit difficult to tell for sure from the available photos but it does not appear that the Brown-Black has a discrete ink view window, much like some of the recent striped M6xx models. The nib has Pelikan's typical two-tone look thanks to its rhodium plating. Made from 18C-750 gold, it will be available in the standard widths of EF, F, M, and B.
The M800 is one the company's larger models measuring 5.59 inches capped with a stated ink capacity of 1.35mL.