Sailor KOP King Of Pen Ebonite Urushi Iro Miyabi Green 21K Gold Nib Fountain Pen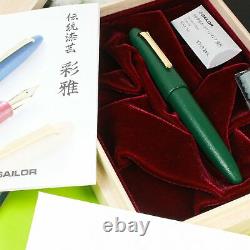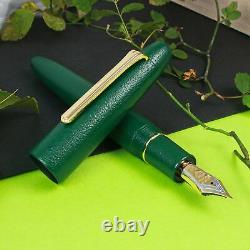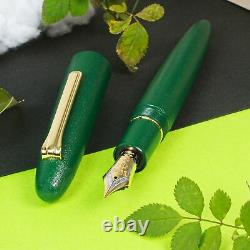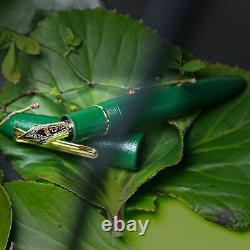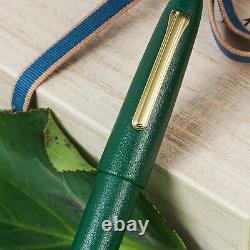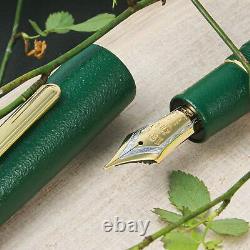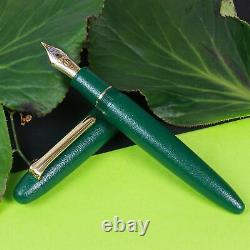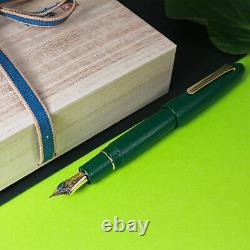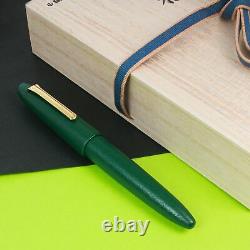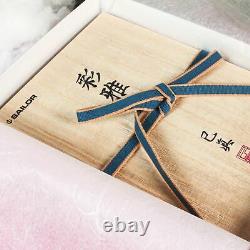 Sailor KOP King Of Pen Ebonite Urushi Iro Miyabi Green 21K Gold Nib Fountain Pen. KOP - King Of Pen Ebonite Urushi. Green Iro Miyabi Chitose Midori. 21K Gold M Nib Fountain Pen. Guess what, I finally found the holy grail in Japan, today I will upload one of the best fountain pens from Sailor that was stopped in production for many months already.
Getting one of these is almost impossible from Sailor and lucky me that I found this KOP or King Of Pens from a stationery shop in Tokyo. The reason being these KOP models are exclusively rare in the market and If you really want to have one, you will need to wait months after months to get them from any retailers because they also cannot have them as the production is limited. Ebonite is used for the body, and colored lacquer is applied and polished many times using the lacquer technique "Ishime-nuri, " which makes the surface of the lacquer uneven like a stone skin.
It is a solid one equipped with a 21-karat gold nib unique to Sailor Pen. The pen is absolutely flawless. AT IT'S VERY BEST.
With its simple minimalist shape and high-shine, the Sailor King of Pen with traditional lacquer art Iromiyabi is Sailor's sleekest design in an oversized pen. This model is handcrafted from high-quality ebonite. Part of Sailor's exclusive Bespoke Collection, this pen is provided the most popular choice of 21k solid gold rhodium-plated King of Pen size nib. This pen is made available with the largest size handmade Sailor King of Pen nib and very expensive Wajima Urushi on Ebonite.
This is a very high-end KOP that Sailor stopped production long ago and Sailor released this Urushi KOP which is a much expensive model than the usual KOP Ebonite. The future availability of this model is very uncertain and very rare in the market.
I have collected this model from one of the pen shops in Japan. Beautiful Urushi Over Ebonite body From Sailor. ISHIMENURI MAKI-E MADE IN THE FAMOUS WAJIMA BY MR. The Ishimenuri Maki-e is a lacquer technique that makes the surface of the lacquer uneven like a stone skin.
Fine stones are made by applying lacquer and then sowing "charcoal powder" or "dry lacquer powder", and then applying lacquer and polishing. In addition, since lacquer has the property of hardening by absorbing moisture in the air, it takes from several days to several weeks to dry, therefore it takes several months to complete the lacquered product.
For this product, the ebonite of the fountain pen body is coated with lacquer to be pretreated, and then the undercoat lacquer is applied on top of it, and then the dry lacquer powder created in the same color as the colored lacquer is sown, and the finish lacquer is applied to the restraint. After that, it is a gem that has been painted and polished with the finished colored lacquer many times. The'King of Pens' is introduced as the top of the range, developed as the symbol of Sailors technology, quality, and writing perfection gained with experience of about 100 years. Ebonite hard rubber is a classic material for quality fountain pens. This writing instrument can be filled with bottled fountain pen ink using the provided converter, and can also use convenient Sailor brand ink cartridges. Born in Kaga City, Ishikawa Prefecture. Graduated from Ishikawa Prefectural Wajima Lacquer Art Training Institute. After becoming a disciple of Shunpei Kakude, a traditional craftsman, he became a disciple of Masao Kobayashi, a lacquer artist. A representative of Kobayashi Lacquer Art Studio in 2007. Exhibition of works and lacquer work demonstration at Quebec Expo, Canada, and lacquer decoration panel in New York. In 2007, at the request of the Ministry of Foreign Affairs, donated gifts to President Fernandez of the Dominican Republic. Belongs to the Japan Kogei Association. Yamanaka lacquerware is a traditional craft born in the Yamanaka Onsen district of Kaga City, Ishikawa Prefecture.
Since ancient times, wood bowl, etc. Has been the mainstream for tableware, which can be said to be a traditional Japanese craft. Under such circumstances, the wood crafts in the Yamanaka area have made a name unlike any other in Japan. In the Edo period, lacquer products were made in the Yamanaka area, and lacquer and lacquer paints were applied to the wood to create Yamanaka-nuri. Currently, Yamanaka-nuri (also referred to as "Kaga-nuri" in recent years) is one of the many lacquer producing areas in Japan, and while enhancing the robustness and grace that are the characteristics of lacquerware, there are so many that cannot be seen in other lacquer producing areas.
We are creating lacquerware with abundant creativity. Due to the nature of lacquer, skilled craftsmanship by handwork is required for lacquer crafts, and lacquer artists who are active as writers are also required to have craftsmanship, so highly creative lacquer crafts are also of excellent quality. The Kaga lacquer applied to this product is the work of Makoto Kobayashi, a writer who has lived in Kaga City and has been involved in lacquer art for nearly 30 years. Ishime-nuri is a lacquer technique in which the surface of the lacquer becomes uneven like a stone skin.
These fine stones are made by applying "charcoal powder" or "dry lacquer powder" on top of the lacquer and then applying the lacquer on top of it to polish it. In addition, since lacquer has the property of hardening by absorbing moisture in the air, it takes several days to several weeks to dry, so it takes several months to complete the lacquer product. LARGEST SAILOR NIB: WORLD REKNOWNED 21K SAILOR NIB.
Special attention has been given to the oversized 21K solid gold nib (the life and soul of the fountain pen), which gives top writing quality. The large-sized pen is handcrafted from Ebonite, a special naturally produced resin material requiring special production processes. Ebonite material is very warm to the touch and its rich elasticity and unique texture provide quality and character to the product.
Sailor nibs are renowned for their smooth writing qualities. The King of Pen ships in a wood well-ended box which includes all papers, a converter, starter ink cartridges, and a polishing cloth.
A 21-karat gold nib made with the unique technology of the Sailor Pen. It is more elastic than the 14K and 18K gold nibs that are often used as fountain pen nibs, and even when the pen pressure is strong, the pen tip does not open and the ink is less likely to run out. You can enjoy a comfortable writing taste by sliding on the paper like "bending" and always supplying stable ink. It is a gem that realizes a supple writing comfort and you can feel the pinnacle of a fountain pen.
Sailor Company is one of the top 3 famous pen companies in Japan. Then what is the good of them? They are the best in NIB, which gather them a reputation. SAILOR specializes in writing efficiency and nib design rather than decoration. But this model was released to have the best in both writing efficiency and design.
COMES IN A SPECIAL PAULOWNIA BOX USING SANADA STRING. The paulownia box is said to be the most suitable material for storing lacquer products. For the tying, we use the durable Sanada string, which is said to have been used by Sen no Rikyu for the tea ceremony toolbox.
Sailor KOP King Of Pens. Cartridge / Converter (Sailor Cartridge is Included). Sailor KOP Original Wooden box.
Our goal is to provide the best quality products and service and your satisfaction is important to us. Your feedback is important to us. Please help us to stand out from other sellers and let us bring you the best products from worldwide. We will try our best to resolve the issue!
Your satisfaction is guaranteed from our store. We look forward to serving you! On weekend and Japanese holidays. We would like to ask for your cooperation and understanding. Once the item has been arrived to you, please kindly check it carefully.
The return is only accepted during the return period. Items must be in new condition and has not been used at all means. Before returning any item, please contact in advance. We'd love to say thank you for supporting our business. If you have any problem with your order or questions about products, please let us know and we will do our best to resolve any issues or to answer your queries.
Please accept our apology for any delays during weekends and Bank holidays, we will get back to you as soon as we can. Pen Wing Stationary company in Japan. We are an online stationery store for people in pursuit of the perfect pen. I love fountain pens, watch so much and carry a huge collection at my disposal. It is simply just because it gives me the utmost pleasure to share the wisdom, history that lies behind all the vintage pens, watches, and so on.
It takes time and effort to collect them and only the collectors who have passion would understand that feeling of joy. Since the items survived many decades, please accept the flaws that they carry. But certainly, they will make you happy and you will be proud to have one of those in your hands and part of the history.
We are also keen to stock from you too the brands that you carry. I think your cooperation and support will build a strong relationship in broaden the network around the world. We cannot wait to hear from you soon. Listing and template services provided by inkFrog. The item "Sailor KOP King Of Pen Ebonite Urushi Iro Miyabi Green 21K Gold Nib Fountain Pen" is in sale since Tuesday, January 12, 2021.
This item is in the category "Collectibles\Pens & Writing Instruments\Pens\Fountain Pens\Sailor".stationery" and is located in Tokyo.
This item can be shipped worldwide.
Brand: Sailor
Material: Ebonite
Ink Color: Black
Nib Size: Medium (M)
Nib Material: Gold, 21K
Features: Gold Trim
Country/Region of Manufacture: Japan
Type: Fountain Pen
Pen Type: Fountain Pen
Model: Sailor 1911 Profit KOP King Of Pen Urushi Ebonite 21K Gold
Model Name: 1911 Profit KOP King Of Pen Ebonite Urushi Kaga ISHIME-NURI
MPN: 10-1584-440
Related Models: 11-7002-420 11-6001-420 10-9175-020 10-9639