Sheaffer Legacy 2 Platinum & Black Fountain Pen 18K Medium NIB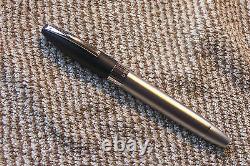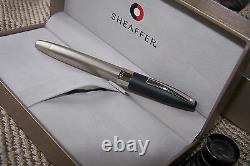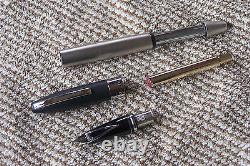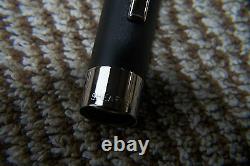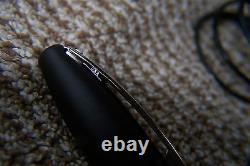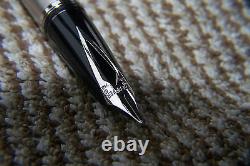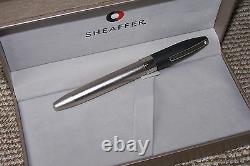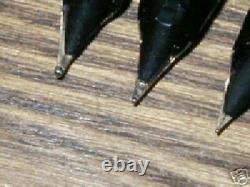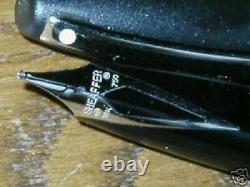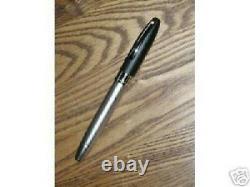 Crafted in Fort Madison, Iowa, U. It has never been filled or dipped. This listing is for a pen with a MEDIUM size nib.
A Medium nib for the Legacy 2 is compatible and interchangeable with any Legacy Heritage as the two models use the same nib section. The Legacy 2 nib section has an o-ring to seal the barrel chamber which is deleted on the Heritage. Produced in limited numbers the Sheaffer Legacy 2 was made almost entirely by hand!
Definitely not a unit of mass production. This is evident from moment you pick this pen up.
Its external appearance is almost an exact replica of the famed Sheaffer "Pen For Men" (PFM), but the PFM was made of injection molded plastic and was never offered in a platinum finish. This pen is in a rare, limited production sandblasted finish. The barrel and filler knob are plated with pure platinum over solid brass. The cap has a matte black lacquer finish with the same sandblasted texture as the barrel.
It is accented with a polished palladium, pocket clip and wide cap band. The 18K solid gold nib is clad in pure precious palladium as well. Yes this nib matches and coordinates with the trim but the palladium finish also has a functional raison detre. It has long been known that palladium plating the parts of the nib that help regulate the flow of ink create a microscopically smoother surface. The effect is an instantaneous responsiveness from the moment nib touches paper.
Sheaffer introduced its "Feathertouch" nib in 1931, featuring a palladium plated chevron on the forward half of the nib. Sheaffer has used palladium both decoratively and functionally on many of its high end models right up through the present. The Sheaffer Legacy 2 represents the improved version of the original 1990's vintage Sheaffer Legacy fountain pen.
The Legacy's introduction sought to emulate and capitalize on the nostalgia associated with one of Sheaffer's most successful and respected classic pens; the 1959 Sheaffer "Pen For Men". The difference between the original Legacy and the Legacy 2 are slight but distinctive. The Legacy has squared corners at the cap and filler knob ends which resulted in an unacceptable level of production flaws and were prone to denting. The Legacy 2 has ends which are rounded.
The Legacy has raised studs to retain the cap. The Legacy 2 has a compression ring and decorative gold accent ring, which provides a better air seal and is more attractive.
It was found in production, that the sharp edges that replicate the lines of the PFM, were difficult to finish without excessive quality control rejections. The filler knob on the Legacy 2 is all metal and has rounded edges in place of the Legacys sharper edges on its plastic filler knob. The nib sections of the Legacy and Legacy 2 are not interchangeable.
Both Legacy 1 and Legacy 2 are no longer in production having been replaced by the Legacy "Heritage" model. I imagine this was a cost cutting measure as the Heritage lacks the "touchdown" filler mechanism, (A very sad thing for Sheaffer Pen lovers).
The Legacy 2 was the last Sheaffer fountain pen to use the Touchdown filling system. It is also the last Sheaffer Legacy model made entirely in Sheaffer's former home in Fort Madison, Iowa. Was acquired the BIC Corporation of France, BIC permanently closed Sheaffer's Fort Madison production facility in May of 2006. All Sheaffer production was moved overseas. Company based in Rhode Island.
Sheaffer pens are no longer made in the United States. The Sheaffer name remains but the roots of its legacy and heritage (pun intended) in the town of its foundation have been severed. The Legacy 2 has the look and styling of the classic 1950's Sheaffer PFM snorkel filler, but are made of modern materials. They have a unique and innovative filling mechanism utilizing a "Touchdown" system for filling from an ink bottle and also allowing the use of ink cartridges as well. · Platinum is the precious metal rarer greater than gold. · In service Platinum is a far more durable finish than gold. It is harder than gold and thus far more resistant to wear. · Unlike silver, Platinum will not tarnish and it is impervious to corrosives, both acids and alkaline. · It is one of the most stable metals and thus used for international standard weights and measures templates. · Platinum's luxurious blue-silver luster is distinctive.
· Platinum is considered the most noble of metals. The use of a satin finish does not allow fingerprints to show but does allows beauty of the Platinum to be revealed without distraction and provides an handsome contrast with the polished palladium trim. This platinum and matte black Legacy 2 fountain pen features. · Brand new, never filled or dipped.
· 18k gold, palladium filled, inlaid nib is marked: SHEAFFER 18K. Nib point is ultra hard, smooth ruthenium. · Nib is hand cast and hand set in the traditional Sheaffer way to assure ultimate quality. · Pure Platinum plated barrel and filler knob.
· Barrel, cap and filler knob have a beautiful sandblasted matte satin finish. · Polished palladium cap band and clip.
Pocket clip is spring loaded for strength and security. · Cap band is marked: SHEAFFER U. · Sheaffers famed white dot logo is set by hand. · Precious metal and lacquer over solid brass construction. · Gold plated "touchdown" converter. · Two Sheaffer "Script" ink cartridges. The combination of textured platinum and black lacquer, with polished palladium trim creates a striking impression. The matte black cap peeking from a breast pocket is understated and unobtrusive. This classically conservative Legacy takes on a distinctive high-tech aura when viewed either capped or posted. Technically advanced is not merely an impression but a reality. The textured finish provide a secure gripping surface unmatched by it more polished stable mates.
This Legacy 2's uniqueness takes it a long step away from relying on a design from the past for its identity. This is truly one of the very finest writing instruments ever made. Once you feel its substantial quality in your hand and test the smoothness and flexibility of its palladium clad 18K gold nib, you'll see for yourself why this flagship of the Sheaffer line sets the standard for the world's finest fountain pens.
The item "Sheaffer Legacy 2 Platinum & Black Fountain Pen 18K Medium NIB" is in sale since Thursday, May 7, 2020. This item is in the category "Collectibles\Pens & Writing Instruments\Pens\Fountain Pens\Sheaffer". The seller is "vtsubt" and is located in Irasburg, Vermont. This item can be shipped to United States, Canada, China.
Pen Type: fountain pen
Sheaffer Lifetime Warranty: Brand New w/Box & Paperswork
Fort Madison, Iowa: 18K Medium nib
Legacy 2: Touchdown filling or cartridge ink
Country/Region of Manufacture: United States
Material: Metal
Brand: Sheaffer
Ink Color: Black
Type: Legacy 2