Xezo Handcrafted Maestro White Mother of Pearl Medium Fountain Pen. LE, Handmade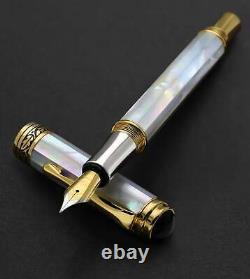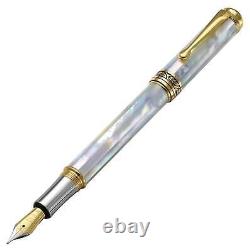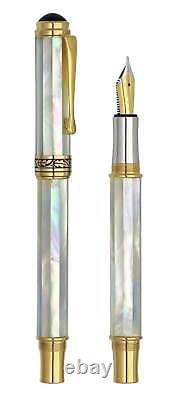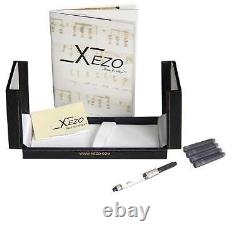 We will answer your question or work to resolve the situation ASAP (usually within 24 hours). Xezo Maestro White Mother of Pearl Fountain Pen, Medium Nib. SKU: Maestro White MOP FM. Copyrighted product design by Xezo. Long, single-cut handmade panels of white mother of pearl Mother of pearl is saltwater (oceanic origin) grown Smooth, rounded shell.
145 mm / 5.71 in. 174 mm / 6.85 in. Every pen is unique and serialized.
Standard international / European size fountain ink refill cartridge. Every Xezo writing instrument is guaranteed against all defects in workmanship and parts for 3 years from date of sale.
45 g / 1.59 oz. There are makers who can produce pens with short-cut pieces of mother of pearl. However, we believe that the hard-to-achieve aesthetics of single-cut long panels of saltwater mother of pearl create a stunning effect that is worth all of the work it involves. It was very challenging for our design team to find a solution on how to produce an entire pen from these single-cut long panels of mother of pearl. Not only was the cost of sourcing the longest saltwater white mother of pearl available a serious issue, but also the technical skill involved with carefully cutting each panel in an ideal straight line, cementing each panel on the barrel, and then polishing each barrel to ensure an ideally round object was the greatest obstacle of all.
However, we believed that it was still possible to overcome these obstacles. The inspiration for this was the example of the pen that was made in France based on the principles of Nicolas Bion, the royal instrument craftsman to King Louis XIV and one of the earliest known European fountain pen artisans.
In 2018 Xezo embarked on this project, but it wasn't until 2020 that we were able to overcome technical issues and produce the first batch of 700 fountain pens and 400 rollerball pens. Each of these very unique pens are serialized and entirely handmade from single-cut panels of saltwater origin white mother of pearl.
The mother of pearl we use is a natural material, and every panel is unique. Due to this, some distinctions in the colors and textures in these pens may occur, helping make your pen one of a kind. Mother of pearl is not only beautiful-it's also known as one of the most durable natural materials. Xezo uses a grade of nacre (mother of pearl) with a hardness of 4.5 on the Mohs scale.
For comparison, a fingernail has a hardness of 2.5, a knife's steel blade has a hardness of 5.5, and copper or brass have a hardness of 3. We use this toughest grade of mother of pearl in our luxury pens because we believe that the best gift is one that represents enduring love and care. Each pen has 18K gold-plated brass fittings and a grip section that is layered in. This fountain pen is fitted with a medium-point silky smooth stainless steel nib. The barrel of the pen is round and smooth.
We truly hope that this pen will be a reflection of the connoisseur's taste of its owner. Every Xezo fine writing instrument hopes to amaze the imagination and bring joy to the eyes. From the simple to the complex, our designs run the gamut, evoking classical Greek and Art Deco styles from the past and the sleek modernity of the future. All Xezo pens are lovingly handcrafted using some of the world's most sought-after materials.
No matter what Xezo writing instrument you choose, be assured it will preserve its beauty, value, and owner appreciation with the passage of time. IMPORTANT INFORMATION FOR BUYERS : We are an authorized internet dealer for the Xezo designer brand. Please note that any serial number on the product you receive will be different from any serial number shown in our stock pictures unless otherwise noted. This means that the packaging may or may not have slight imperfections such as small abrasions.