Xezo Maestro 18K GOLD Fine Nib Fountain Pen VINTAGE, RARE #088. Mother of Pearl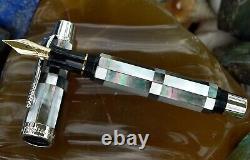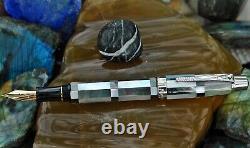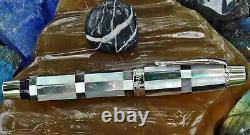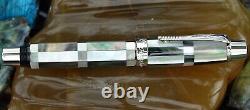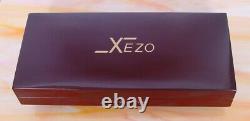 We will answer your question or work to resolve the situation ASAP (usually within 24 hours). Xezo Maestro Black and White Mother of Pearl Fountain Pen.
Limited Edition Vintage NOS from Xezo Vault. SKU: Maestro BW MOP FGN. Copyrighted product design by Xezo.
Minor scuffs on metal fittings. Natural New Zealand/Tahiti black and white mother of pearl Octagonal barrel. Black and White Mother of Pearl. 136 mm / 5.35 in. 168 mm / 6.61 in.
Solid 18k gold Fine nib. Vintage, new old stock Each pen is individually numbered. Standard international / European size fountain ink refill cartridge.
Every Xezo writing instrument is guaranteed against all defects in workmanship and parts for 3 years from date of sale. 50 g / 1.76 oz. PLEASE NOTE: This listing is for a showroom pen with the serial number 088.
Please check the table above for condition information. The Maestro Series fountain pens were produced in limited editions of 500 pieces per style. The pens were handcrafted in Art Deco style and utilized combination of white and black Mother of Pearl panels in their respective color variations.
We used the finest natural white and black Mother-of-Pearl from New Zealand and Tahiti. Imagine holding in your hands a work of art made of precious, glowing iridescent natural white and black Mother-of-Pearl, polished to perfection. The special black Mother-of-Pearl panels range from gray to black with red, green or blue overtones.
The edges of the barrel of each pen are hand-finished and smoothly rounded on the outside. No two pens are exactly alike.
The pen barrel is smooth and octagonal. Each pen is individually numbered.
Nib is fine point all 18-karat gold. Due to the hand-crafting process involved in the production of each of our mother-of-pearl pens, the weight of each pen will vary slightly. White or black Mother-of-Pearl are natural materials; therefore, some distinctions in the texture of these materials may occur. These distinctions and variations in texture are not defects, but rather natural attributes which add beauty and uniqueness to each of these handcrafted pens. Ink cartridges are interchangeable with Xezo refills and a variety of other international standard-size refills from other brands.
Every Xezo fine writing instrument hopes to amaze the imagination and bring joy to the eyes. From the simple to the complex, our designs run the gamut, evoking classical Greek and Art Deco styles from the past and the sleek modernity of the future. All Xezo pens are lovingly handcrafted using some of the world's most sought-after materials. No matter what Xezo writing instrument you choose, be assured it will preserve its beauty, value, and owner appreciation with the passage of time.
IMPORTANT INFORMATION FOR BUYERS : We are an authorized internet dealer for the Xezo designer brand. Please note that any serial number on the product you receive will be different from any serial number shown in our stock pictures unless otherwise noted. This means that the packaging may or may not have slight imperfections such as small abrasions.